News
Download April eLearning Calendar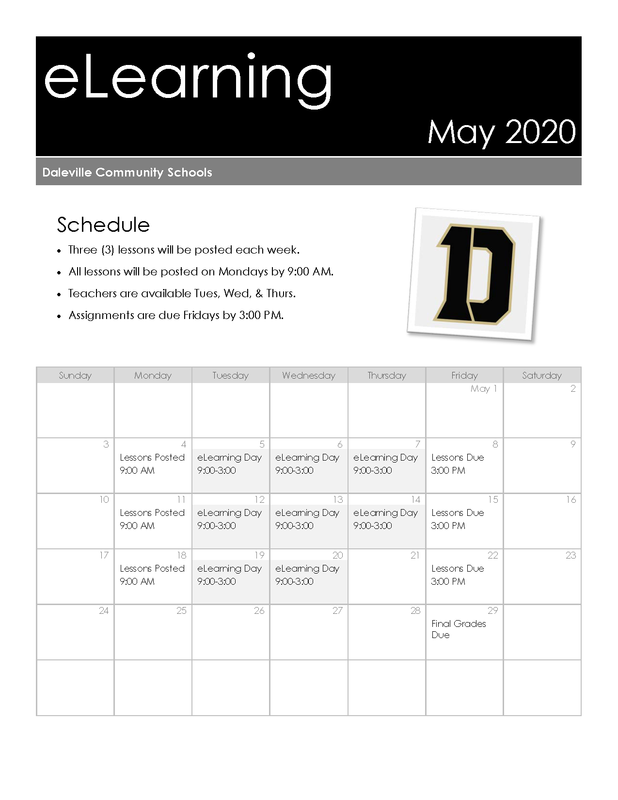 Download May eLearning Calendar
March 13, 2020 Bronco School Community, The coronavirus (COVID-19) pandemic is an evolving situation which has now impacted schools in Delaware County. Our...
SEE ALL NEWS
LIVE FEED

Assistant Superintendent
about 23 hours ago
Households with at least one resident who participates in SNAP or Free/Reduced lunch may qualify for an AT&T program for an in-home WiFi capable modem. See att.com/access for details.

Assistant Superintendent
1 day ago
Reminder that the online order form for week five meals is due Thursday by 3 PM. Today is Wednesday in case anyone else is struggling to know what day of the week it is. :-)

Assistant Superintendent
3 days ago
New video message from Daleville Community Schools regarding our plans for the remainder of the school year.
Stay healthy - stay safe. It's a great day to be a Bronco!
https://5il.co/et0e

Assistant Superintendent
3 days ago
Reminder that if you ordered weekly meals, pick up is today behind the elementary school between 10 AM and 2 PM.

Assistant Superintendent
10 days ago
Reminder for those who ordered that meal pickup is today from 10-2 behind DES. Our Rockstar food service personnel have prepared over 6500 meals for pickup this week! The new order form for next week will be emailed this afternoon.
SEE ALL POSTS